STUDENT
SERVICE TEAM
MSA is proud of its friendly and supportive student services team which boasts of a great mix of highly qualified professionals coming together to offer a range of educational and consultancy services.
Need help ? Don't hesitate, feel free to contact team MSA.
---
ACADEMIC
STAFF
The staff is the foundation of MSA. They come with specialization in various academic fields and also some work experience in related job. They are either University or College graduates in science, commerce or management subjects. Best of all, MSA has trainers and teachers who are dedicated in their work.
---
MANAGEMENT
TEAM
MSA's professional management team is dedicated to providing effective internal systems, quality education and ensuring MSA has the structure and services available to support its students during their period of international study.
Highly Qualified Staff with experience in their respective fields who ensure continuous improvement in strategies to provide effective long-term service and quality.
Sumeet Tembe
Executive Director
An educationist and a social entrepreneur who strongly believes that education is the best way to empower the society. Experienced in guiding and mentoring students from diverse background and countries, he has been a representative of Australian Universities, leading the Asia Region, along with being a representative of Govt. of India as Youth Ambassador in different countries to study the youth policies in these developed countries.
Honoured by the Government of India with 'National Youth Award' in 2016 for his impactful and consistent work in skill development for the youth as well as contributions towards conservation of the environment. He is also the recipient of Gujarat Governors' award as the best NCC Cadet at RDC in 2010 and also the winner of Sardar Patel Jr. Award for excellence in Sports in the game of Table Tennis.
He is also a member trustee of E-Plus Foundation an NGO that promotes education and skill development amongst the youth of India.
Kruttika (Executive Director)
B.Tech (Chem. Engg.)
Head: Counselling and Operations
Previously worked as a business manager in a multinational company QASPL Ltd. to mobilize resources for non-profit organizations. Later started a new company named LEEWIN in Nagpur for face-to face marketing and resource mobilization for Help Age India group PAN-India. Since 2020 leading the operations of MSA's Vadodara HO.
Dr. Gopal Tembe (Director)
PhD(Chem.),Post-Doc(Germany), MBA, C.Chem., FIC, FICS, MIIChE
A scientist and management professional with over 35 years' experience in Research & Development in India's largest corporate sector and a fortune 50 global company. Actively associated with social and educational programs for needy students in schools.
Yashaswini Tembe (Director)
B.Sc, MBA
Founder Managing Trustee, E Plus Foundation, Vadodara,
As a social worker, counsellor and entrepreneur has been active for over two decades in diverse subjects relevant to community welfare and nation building. Promoting skill development amongst needy women for fashion, art & craft industry; guiding students from Gujarat region to join defence through pre-military education etc. Recognized by Vadodara Municipal Corporation, FM Radio & The International Association of Lions Club for significant contribution to social causes.
NAGPUR BRANCH
Alark
B.Com., Dipl. in Hotel Management
As owner of a three star- 'Loharkar's Hotel' in central Nagpur was looking after the overall administration and management including tie-ups with OYO and Tribo hotel chains, boarding and banquet services etc. Currently in-charge of Nagpur branch of MSA for overseas student admissions and related services.
Vishvika
Graduate in Interior Designing
Worked as free-lance consultant for renovating and aesthetically designing various office spaces in Nagpur. As part of MSA Nagpur team is now responsible for managing student counselling & admissions.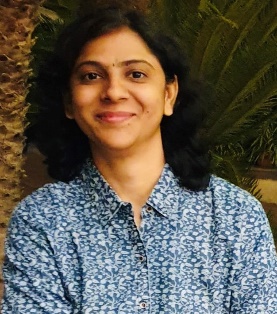 Archana Pendharkar
Dipl. in Computer Engineering
With over ten years teaching experience and a course in e-commerce she is now associated with MSA, Nagpur branch for handling overseas student admissions.
DHARWAD (Karnataka)
Mr. Shantisen Pastey
A former Indian Air Force personnel, has experience in several domains including Media (Times Group), Transportation and Logistics, Business development at IBMR (Hubli, Bangalore, Ahmedabad & Delhi).
United Kingdom
Dr. Robin Antony
With a professional degree in chemistry and over three decades of experience in both technical and managerial functions is the key contact person for admissions in British institutes. Represents the MSA's operations in UK and caters to onshore services.